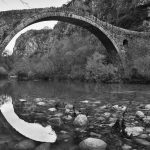 "Living beside the water" in Greece
Our first Erasmus + meeting took place in Ioannina from 11th to 17th November. We lived beside the Greek water – Lake Pamvotida. We had rich programme full of interesting activities, beautiful places, charming people and delicious meal. Pupils and teachers introduced their region, school and water factor near the hometowns.
Pupils did a great job! They presented the mascot-dolls of their school and explained the reason they chose them. They also improved their ICT skills during workshops. They learnt how to create the online questionnaire and e-book of the story related to water factor near the hometowns. Pupils' task was to prepare power point presentations concerning water factor near their hometowns. They successfully presented them in front of the blackboard. All the presentations were amazing. We thank all the pupils. Each pupil learnt not only about the Greek water factor, but also basic Greek words.
We chose the logo of the project "Living beside the water" as well. Teachers selected the logo created by pupil from The Czech Republic. Thank you. All the logos were pretty so it was very difficult to choose the best one.
We also visited many interesting place – Perama Cave, Pamvotis Lake and the island of the lake, Castle of Ioannina (Municipal Museum and the Silversmithing Museum), Hydroelectric plant in the spring of Aoos river, stone bridge in Zagorohoria, Vikos Gorge or "Pavlos Vrellis" wax museum.
It would be very difficult to choose the most beautiful and interesting place. All of them were so amazing! Thank you very much, Greece! It was really nice to meet you. We are looking forward to see all the participants in the Czech Republic in March 2020.